FESTIVAL AREA
The festival takes place in the area of Polish Aviation Museum in Krakow. Festival area is open from 4:00 PM until 2:30 AM on August 19 and 20.
MAIN ENTRANCE TO THE FESTIVAL (for journalists and persons with VIP tickets) is located on Al. Jana Pawła II (pedestrians will get there by turning into ul. Markowskiego and then into ul.Gnysia through the Lotniczy Park).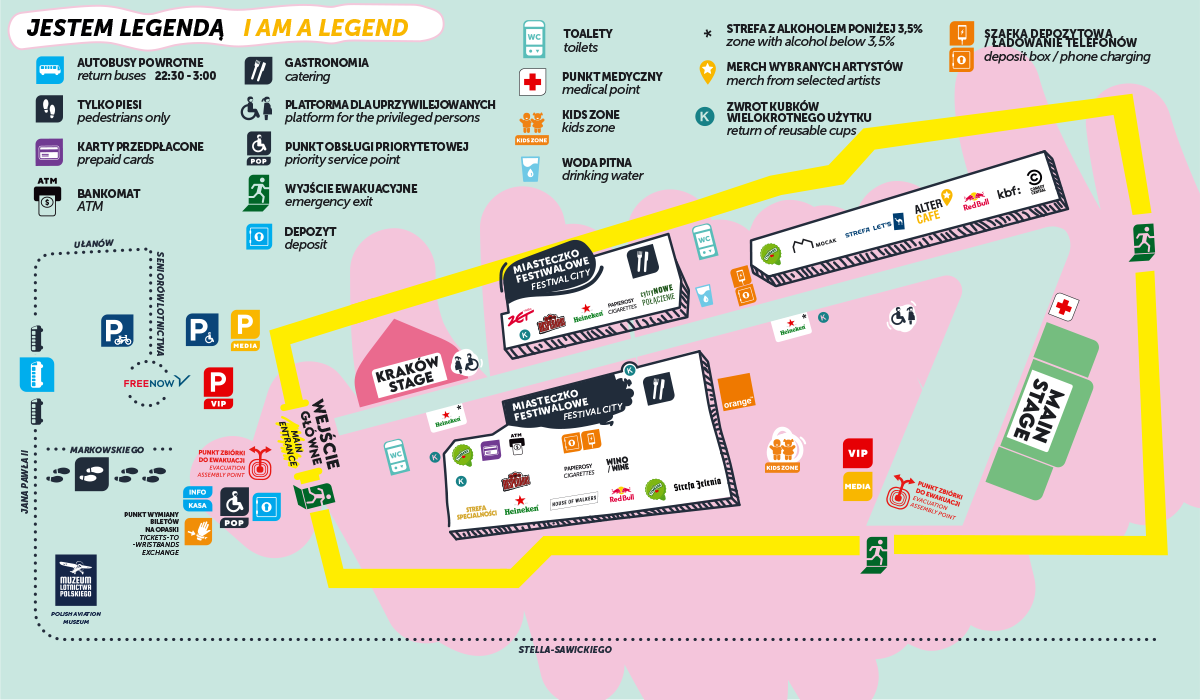 REMEMBER! Each festival goer is obliged to comply with Event Terms and Conditions available on www.livefestival.pl as well as at the information points near Festival entrance. There you'll be able to find answers to all your questions.
DO NOT BRING THE FOLLOWING ITEMS TO THE FESTIVAL AREA
Photo cameras • cameras and equipment recording audio-video (including GoPro cameras) • professional analogue cameras or professional cameras with interchangeable lenses • Umbrellas with pointy tips • own food and drinks • Dangerous items (knives, sharp tools, gas, guns, laser pointers etc.) • Alcohol, drugs, etc. • Tripods and selfie sticks • drones • skateboards • scooter •
BIKE PARK
You can get to the festival by bike! A bike park will be located near the entrance to the festival from Al. Jana Pawła II.
EXCHANGING TICKETS TO WRISTBANDS:
All types of festival tickets must be exchanged for wristbands. Festival wristbands are installed at the first admission to the festival area and should not be taken off during the following festival days. Damaging or tearing off the wristband makes it invalid.
Only one person can use one wristband. More information can be found in the Terms and Conditions.
Tickets can be exchanged for wristbands in specially prepared ticket-to-wristband exchange point.
TICKET-TO-WRISTBAND EXCHANGE POINT by the entrance from Al. Jana Pawła II
The ticket-to-wristband exchange point will be open on both days from 10:00am to 01:30am
HERE YOU'LL EXCHANGE:
All ticket types.
ATTENTION! One day tickets for Saturday, August 20 cannot be exchanged on Friday!
DEPOSIT (paid – PLN 20 per one item)
For your convenience, there is a deposit located by the main entrance from Al. Jana Pawła II, where you can leave all the items forbidden in the festival area which are listed in the Event Terms and Conditions. The point also functions as lost property station. The full list of forbidden items can be found in the Event Terms and Conditions.
The deposit at the main entrance from the Jana Pawła II Street works on both days from 3:00pm to 3:00am
CATERING STALLS
There will be available hot and cold drinks as well as catering stalls with vegetarian and non-vegetarian food on the festival area.
INFORMATION FOR PERSONS WITH DISABILITIES
At the entrance to the festival, there is a free car park dedicated to people with disabilities. If there is such need, our volunteers will help al. the persons with disabilities to get to any place at the festival. There will be special platforms for privileged persons in front of each stage. There will be special, hardened paths leading to those platforms. Most of the festival area is located on the concrete surface, which makes moving around on the wheelchair much easier. Near the platforms as well as in each toilet zone, there are special toilets adapted to the needs of people with disabilities.
SANITARY FACILITIES
There will be available toilets and wash-basins on the area of the festival.
PAYMENTS AT THE FESTIVAL
There is a cashless payment system at the festival. We accept payments with payment cards, telephones, watches and other devices in contactless technology.
We have also prepared a special Alter Art prepaid card that can be topped up for cash and used at KLF. There will be a point for exchanging cash for Alter Art prepaid cards.
FREE RETURN BUSES
Festival goers are provided with buses that operate on festival days between 10:30 PM and 3:00 AM from the bus stop at Jana Pawła II Avenue to the Krakow Centre – bus stop "K+R Pawia" (between Worcella and Kurniki street) with exclusion of other stops.
FREE NOW
Go to the Festival with FREE NOW - The mobility super app. Use KLF22 voucher and get 15 zł off your two first taxi rides or eScooter rentals with FREE NOW.
How it works:
download FREE NOW app (Android, iOS)
go to your profile settings (icon in the top right corner), top "Payment" tab and add your preferred payment method - credit or debit card, PayPal account, ApplePay or Google Pay.
go to "Vouchers" tab, tab plus icon and add your code - KLF22
When ordering a taxi please remember to use "Pay by app" option!
To go to the Festival choose Lite - cheap rides with upfront price or an eScooter. After the concerts head to our official taxi rank and get your ride from there. You'll get ther a 50% off voucher for your way back home. Please let the driver know you want to pay by app.